Lee Scott Plisskin (born on 6th May 1990) is a human and a member of The LeonHart Clan. He is the cousin of Jared Leonhart and Cain Townsend.
Lee S Plisskin
Biographical information
Born

6th May 1990

Alias
Physical description
Species
Gender

Male

Height

6"1"

Hair color

Golden Blonde

Eye color
Skin color

Tan

Family information
Family members
Special characteristics
Abilities

Expert Marksman
Endoskeleton
Regenative Skin

Special abilities
Affiliation
Occupation

Ex Child of War
Ex Blades

Loyalty

The LeonHart Clan

.
Early Life
Edit
Lee was saved by Jack Corvis and was called one of the Children of War in the Iraq war who fought for the Mercs he soon left after being found by his cousin Dante
Main article: Leonhart
Lee now a member of the blades was called in to find his cousin Leonhart, after a few months he was sent to help The Blood Elites after word Clara was alive, he soon found her around the ruins of the old Townsend home she grabbed him and threw him into a wall he was beaten up so bad that his limbs was ripped off.
After 12 years in a hospital ward Jared appeared from nowhere and carried the remains of Plisskin back to the newly built Townsend Manor where Jared started to build cybernetics to rebuild Plisskin.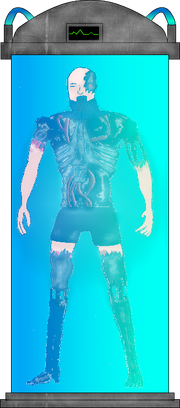 Physical appearance
Edit
Lee is described being tanned he was also 5'9" tall, he has golden blonde hair, when he was with the Blades he was clean shaven but after being burned he grew his beard, his eyes were blue.
Personality and traits
Edit
Due to his tough life he grew up tough and joined the army when the war in Iraq was born.
Abilities
Edit
Expert Marksman: He was trained by the best of the best from the S.A.S to the Seals.
Endoskeleton: His skeleton was altered with a titanium copper compound alloy, his muscles was made from the same material but instead they were fibres.
Regenative Skin: Jared managed to extract the regenative trait of the vampyre virus and create regenative skin.
Cloaking Device/Invisiblity: Jared created a device which bent light to his will.
Special abilities: Edit
Knife Throwing
Edit
Plisskin developed the skill to throw knives quickly and strangley he was very accurate.
After the addition of his cybernetics he was able to access any computer hardware like he was in the system himself.
Paraphernalia
Edit
Transportation
Edit
Lee rebuilt his Harley Forty-Eight when he was brought back from his acoma and he brought a 1967 Pontiac GTO.
P

lisskin's main weapon of choice is a sawed-off Winchester 1887 and his sidearm was called his Sting but he preferred to use his set of throwing knives.
Relationships
Edit
Appearances
Edit
Community content is available under
CC-BY-SA
unless otherwise noted.