Jennifer MacMillan
Biographical information
Born

21st November 1990

Alias
Physical description
Species
Gender

Female

Height

6"3"

Hair color

Blonde (in human form)
Black (as Vampyre)

Eye color

Blue (in Human form)
Red (as Vampyre)

Skin color

Pale

Family information
Special characteristics
Abilities

Immortality
Mist
Shift
Incredible accuracy
Superhuman senses
Superhuman strength
Superhuman speed

Affiliation
Occupation

Thief

Loyalty
.

Jennifer MacMillan (born in 21st November 1990) is a vampyre and a member of The LeonHart Clan. She was a childhood friend of Jared and Love Interest during his Teenage years
Early Life
Edit
Jennifer's teenage years are explained by Jared as the time he loved before Claire, at the age of 18 she was kidnapped by The Commonwealth being locked away in Ravenham Prison.
Main article: Leonhart
After Dante's escape from Ravenham Prision she watched him but after he left Ravenham and Moriarty had injected her with the blood of Leonhart then locked her in a cell, Leonhart returned to find her there and rescues her before he employs her to join the LeonHart Clan as his second in command.
Personality and Traits
Edit
Physical appearance
Edit
Jennifer is described as a human who was a perfect size and tanned only at 5'9" tall, she had blonde hair, after she awoke from her imprisonment as a vampyre her face had evened out turning pale, her eyes had changed from blue to red. Her hair had faded to black and she grew taller to 6'1" but when she transformed into his Vampyre form her skin turned like marble and around her eyes a dark shadow appear whilst her eyes glow blood red.
Personality
Edit
She was the most cheerful girl Jared ever knew after her turn she became the perfect lady.
Powers and abilities
Edit
Since she was injected with the Blood of LeonHart making her able to blend into Heaven, Hell and back to Earth. She has enhanced Vampyre powers (Immortality, Advanced Regeneration, Incredible accuracy, Superhuman senses, Superhuman strength, Superhuman speed) including Blood Memories.
Special Abilities
Edit
She gained the ability from Leonhart.
For some reason she gained the ability to turn into mist at will.
Jennifer was trained by Jared to use firearms she favoured the Beretta Px4 Storm and two Sai.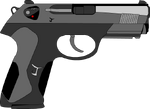 Appearances
Edit
Community content is available under
CC-BY-SA
unless otherwise noted.