Jasper LéonHart (born Sawyer Cooper, on August 12th 1998) is a human and a member of The LéonHart Clan, he is the son of Darrell Cooper and the adopted brother of Jared LéonHart.
Jasper LéonHart
Biographical information
Born

August 12th 1998

Alias

Sawyer Cooper

Physical description
Species

Paladin

Gender

Male

Height

5"8"

Hair color

Chestnut Brown

Eye color

Brown

Skin color

Pale

Family information
Family members
Special characteristics
Abilities

Paladin Magic
Expert Swordsman

Special abilities

Ninjutsu

Affiliation
Loyalty
.
Early Life
Edit
Jasper was born under the name Sawyer Cooper when Clara and Dante went out Sawyer got attached to Drake calling him his big brother but he was only 4 years old when Clara died, his father trained him to become a Paladin like him, he spent six years as a young Paladin trying to find Dante believing he killed his sister.
Main article: LéonHart
Sawyer awoke during the Great Storm of 2010 he saw signs of a ghost riding the lightning, after his father ran to the church Sawyer followed and saw the ghost looking over Clara's grave, soon he trained with his father to hunt and kill the monster haunting Rosedale, he soon discovered there could be a chance his sister was alive. Sawyer trained with his father to become a Paladin and went on the hunt for the Ghost of Rosedale, he soon discovered Dante was the Ghost, he killed him in honour of his sister before he was offered to join The Fourth.
During the 10 years since Dante's demise Sawyer grew up hunting vampyres leaving Damien rise to power, he never knew anything else about his sister until Dante returned and attacked the Church.
Personality and Traits
Edit
Physical appearance
Edit
Jasper is described as a tall and slender kid, he had sleek brown hair and brown eyes with a hint of gold dust glowing from them.
Personality
Edit
He was described by Dante as a loving and the happiest child he would ever know, when he grew up he became cold like Clara whilst he hunted but meeting Dante he brightened up.
Powers and abilities
Edit
Jasper was one of the most powerful Paladins in his family, Jasper spoke about how he was taught by his father to hunt down Jared. The Powers he gained was the ability to control the elements, telepathy, summon a special sword and teleportation,
Special Abilities
Edit
Jasper learned Ninjutsu whilst he was just a small boy to defend himself from bullies thanks to Dante.
Paraphernalia
Edit
Transportation
Edit
Jasper soon gained both a Suzuki SV650 and a Bugatti Veyron EB 16.4 given to him by Hayden.
Jasper was trained by Jared in Marksmanship and Jasper chose his Heckler and Koch Usp Match, his favourite weapon was the sword his father gave him after which was a Knight's Templar Sword.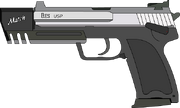 Appearances
Edit