Damien Haines
Biographical information
Born

16th April 1953

Died

9th August 2010

Alias

Codename: Herrenvolk

Physical description
Species

Human (Paladin)
Master Race

Gender

Male

Height

"5"1"

Hair color

Black (formally)
Bleach Blonde

Eye color

Brown (formally)
Blue with scratches of red

Skin color

Pale

Family information
Special characteristics
Affiliation
Loyalty
.
Early Life
Edit
Damien was conceived during a Dark Ritual, after his birth his mother was sent to The Spectral Realm as a Lost Soul so Damien vanished but soon attacked the Paladin Society killing the Archs but Darrell managed to defeat him and sent him to RavenHam Prison.
Main article: Leonhart
Damien escaped from RavenHam Prison just a week before Jared, Damien was found floating in the sea by two german fishermen and they took him in. After he got enough money to travel back to BloodGrove. Damien formed The Fourth with Julie Stoker and Tina Russell, he tried to get Sam to join after the death of Dante and no one could stop him.
He rose up as the Chancellor of Britain and was ready to marry a woman named Cassandra Shepard.
Personality and Traits
Edit
Physical Appearance
Edit
Damien is described as skinny and pale only at 5'9" tall, he had brown hair. After his first death his hair became bleach blonde and his eyes became blue.
Personality
Edit
Damien was described as being a guy who had lost everything and was easily manipulated.
Abilities
Edit
Since his birth he managed to control people and summon creatures.
Damien started to use a Luger PO8 as his side-arm whilst his main weapon is a MP40.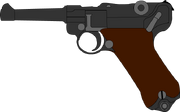 Relationships
Edit
Clara was Damien's girlfriend who he manipulated into trying to kill Jared but he failed and she left him to die, but he had dug inside her mind so much she bought him back to life
Appearances
Edit